Growth slowing for services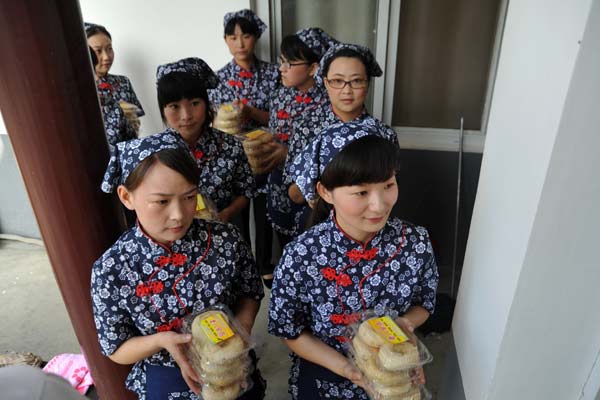 Non-manufacturing sector loses steam, putting jobs under pressure
The expansion pace of China's non-manufacturing industries decelerated to a nine-month low in June, in line with the weakest factory activity in four months, suggesting higher downside risk to second-quarter economic growth.
The non-manufacturing Purchasing Managers' Index in June dropped to 53.9 from 54.3 in May, indicating a slower expansion of the service and construction sectors, the National Bureau of Statistics said on Wednesday.
The small slip in June mainly reflected the seasonal factor in construction activity, said Cai Jin, vice-chairman of the China Federation of Logistics and Purchasing.
Last month, the sub-index for new orders in the non-manufacturing sector slightly rebounded to 50.3 from 50.1, and the new export orders sub-index rose to 50.4 from a one-year low of 49.1 in May.
"That can provide stable growth momentum in the near future," Cai said.
"Maximizing the service sector's growth potential should be one of the key points for macroeconomic policy adjustment."
A separate survey from HSBC Holdings released on Wednesday showed a modest increase in service business activity, as the PMI slightly rose to 51.3 in June from 51.2 in May, reflecting steady but weak expansion.
But Qu Hongbin, the chief Chinese economist at HSBC, said the underlying growth momentum of the service industry is probably softening, along with the slowdown of manufacturing growth.
"With the sluggish growth of new orders, employment growth is under pressure," said Qu. "As the value-added tax reforms are likely to take time to filter through, we expect slower growth in the service sectors in the coming months."
The official data showed on Monday that the manufacturing PMI dropped to a four-month low of 50.1. The HSBC reading was even lower last month at a three-quarter low of 48.2, compared with 49.2 in May.
Sluggish overseas demand is exerting a strong drag on both the manufacturing and service industries, although economic indicators for European countries and the United States suggest some improvements in May and June, said Chang Jian, a senior economist at Barclays Capital.
The sub-index for service sector employment rose to 51.5 from 51.3 in May, the NBS said. However, employment in the manufacturing sector is under pressure, as indicated by a reading that decreased to 48.7 from 48.8.
As employment has not experienced a serious decline, the government may delay economic stimulus measures and focus on transforming the investment-oriented growth model into a more sustainable pattern driven by domestic consumption.
The service sector is seen as having the most potential to stabilize the world's second-largest economy at a time when the manufacturing sector is experiencing excess capacity and weakened domestic and external demand.
The service industry now can provide more employment in China compared with factories. It accounted for 46 percent of GDP growth in 2012.